News Item
February 8, 2006
BioShock in Game Informer - March 06 Edition
Game Informer will have some new BioShock information in their March 2006 edition!
The March issue, which is shipping to subscribers as you read this, will also give you the low-down on John Woo's Stranglehold plus the dish on every game from Square Enix in 2006 (Kingdom Hearts 2, Final Fantasy XII, Valkyrie Profile 2: Silmeria and more!). We also sat down and talked with Tracy Fullerton, the Assistant Professor/Co-Director of the EA Game Innovation Lab at the University of Southern California about going to school to make video games.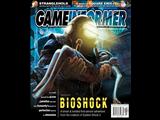 Now to find someone to ship me a copy.